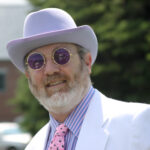 Living in the Northwest corner of Connecticut, TB McGlone is a teacher, writer, musician, and traveler. His books include a novel, Cute Hoors; a travel memoir, Buen Camino: Bedraggled, Bewildered, and Amazed Along the Way of St. James, and Four Nights in the DR; and a collection of short stories exploring the growing interchange and commingling of aging North Americans with the generous, exceptional people of one Caribbean island. Information about these works, as well as other poems, essays and visual media, can be found on his website. All books available on Amazon.
Please leave a comment at tbmcglone.com
Click here for additional photos.